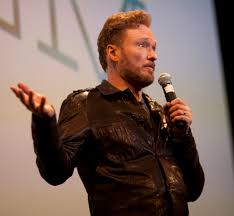 Are your posts on social media protected intellectual property? Some think so, and are willing to go to court over the issue. The comedian Conan O'Brien has been sued by a Twitter user for allegedly stealing four jokes off of his Twitter feed and using them on his show. The suit names O'Brein, TBS, and Time Warner Inc.
According to the lawsuit, the jokes were posted on the plaintiff's Twitter feed and blog before they were used on the show. He is seeking copyright protection for the jokes and want a ban on further use of his writing, as well as court costs and a punitive monetary award due to the deliberate use of his jokes. The plaintiffs have yet to comment on the issue.
Social media is designed for sharing information with others, but are things posted on these sites automatically covered by copyright or other IP protection laws? This is a very tricky thing to argue in court. Certainly there are ways to infringe on IP using social media, but if the content solely exists on social media, isn't there an expectation of free sharing?
If you have questions about copyright issues involving social media or other IP questions, feel free to contact Greenberg & Lieberman, LLC for a free consultation. We specialize in internet IP protection but handle all major IP-related fields of law as well. Read our webpage for more information.