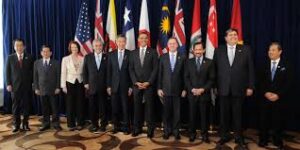 As you may have heard in the news, the Trans-Pacific Partnership or TPP has just reached their final agreement. All that remains now is for it to be ratified among the member countries for it to go into effect. The TPP is a sweeping agreement that will change how the Pacific Rim countries, including the U.S., do business with one another. One of the major components of the agreement has to do with intellectual property rights.
According to an outline from the Office of the United Trade Representative, the TPP agrees to the following on IP protections:
"TPP countries have agreed to reinforce and develop existing World Trade Organization Agreement on Trade-Related Aspects of Intellectual Property (TRIPS) rights and obligations to ensure an effective and balanced approach to intellectual property rights among the TPP countries. Proposals are under discussion on many forms of intellectual property, including trademarks, geographical indications, copyright and related rights, patents, trade secrets, data required for the approval of certain regulated products, as well as intellectual property enforcement and genetic resources and traditional knowledge. TPP countries have agreed to reflect in the text a shared commitment to the Doha Declaration on TRIPS and Public Health."
You can read the full outline at https://ustr.gov/tpp/outlines-of-TPP
However, the exact legal language of the agreement has yet to be fully revealed but it will be shortly. Normally there would be a big debate about the treaty, but thanks to "fast-track" legislation that was passed Congress will not be able to debate what is in the treaty. They can only vote for it to pass or not pass. Given the current gridlock in Congress, we could see an agreement five and a half years in the making stymied at the last moment. Only time will tell.
Greenberg & Lieberman, LLC can help you protect your intellectual property rights. Contact our offices for more information.